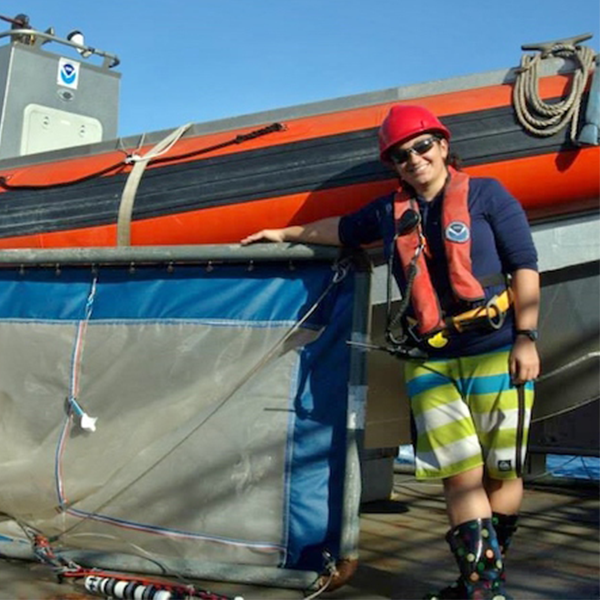 Texas Sea Grant has hired Alexis Sabine as the program's new fisheries specialist. She joins the extensive Texas Sea Grant extension team, which provides practical and science-based support to the Texas coast.
Sabine will contribute to a variety of local and Gulf-wide fisheries programs, with a particular focus on the Texas recreational fishing industry. One of Sabine's first major projects will involve facilitating knowledge and technology transfer to fishing guides, private anglers, fishing tournaments and other related industry participants. She will also be supporting research efforts on locally important species and fishing practices, such as on greater amberjack and on bycatch reduction techniques around the Gulf of Mexico.
"I am so excited to join the Sustainable Fisheries and Aquaculture team and to help advance Texas Sea Grant's important extension work by serving as a link between researchers, local stakeholders and fishing communities," Sabine said. "My goals and interests include building and maintaining connections with the recreational fishing industry, promoting sustainable fishing practices and conducting fisheries research in collaboration with fishermen."
Sabine comes to Texas Sea Grant with extensive experience as a fisheries biologist with the Division of Fish and Wildlife in the U.S. Virgin Islands. During this time, she managed several projects, ranging from artificial reef planning to collection and analysis of commercial fishing data.
"Texas Sea Grant has a long and proud history of serving commercial and recreational fisheries throughout Texas, and Alexis is a perfect addition to the ongoing legacy," said Texas Sea Grant Senior Associate Director and Extension Program Leader Cindy Lyle. "Her expertise will help us expand our service to Texas fishermen as well as the state as a whole."
Sabine received a master's in marine and environmental sciences from the University of the Virgin Islands in St. Thomas, USVI, and earned a B.S. in environmental geology and chemistry from Northeastern University in Boston, Massachusetts.