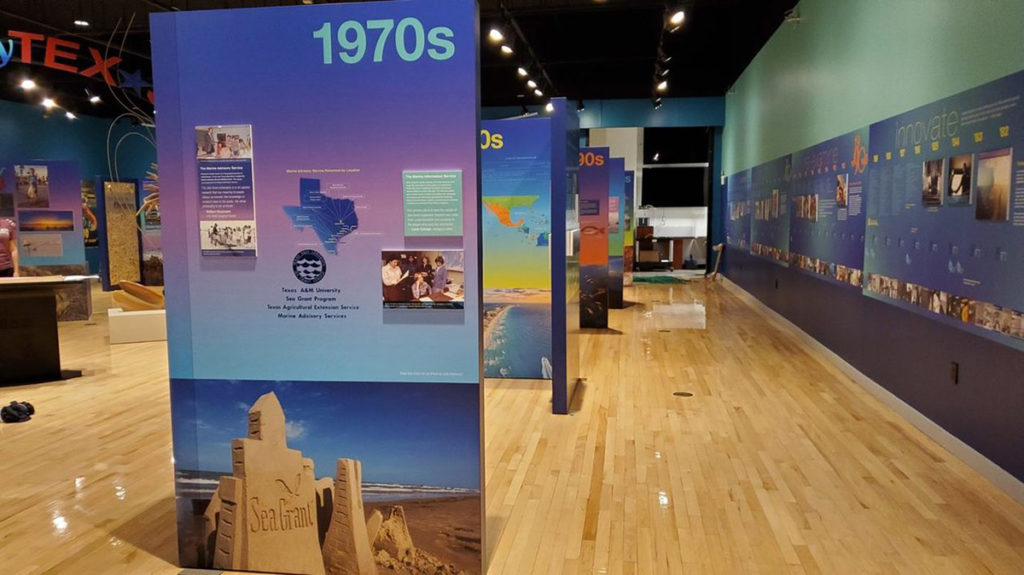 A hallmark of Texas A&M University is its status as a land-, sea- and space-grant university. One of those programs — the Texas Sea Grant College Program is celebrating 50 years of science and stewardship at the Bush Library and Museum.
The exhibit is slated to run from July 1, 2021 to July 5, 2022, in the Ansary Gallery of American History. Tickets must be purchased in advance. Visitors are encouraged to visit bush41.org for updates to hours of operation.
As one of the first sea grant programs, Texas Sea Grant has a rich history of supporting the Texas coast and its people through cutting-edge research and innovative outreach and educational programs. From maintaining healthy coastal ecosystems to aiding sustainable fisheries to promoting resilient communities: Texas Sea Grant has helped Texans protect and enhance the unique, culturally significant, and economically important resources of Texas' coastal and marine environments.
At this exhibit, visitors can discover the wonders of the Texas coast, learn how sea turtles are saved by Turtle Excluder Devices (by walking through a shrimper's net), find out how experts build communities for the changing Texas coast, see how Texas Sea Grant has helped these efforts and more.
Visitors will learn about historic and current Texas Sea Grant programs and successes, and they will realize their own impact as stewards of the Texas coast.
—
About Texas Sea Grant: Texas Sea Grant is a unique partnership that unites the resources of the federal government, the State of Texas and universities across the state to create knowledge, tools, products and services that benefit the economy, the environment and the citizens of Texas. It is administered through the National Oceanic and Atmospheric Administration and is one of 34 university-based Sea Grant Programs around the country. Texas Sea Grant is a non-academic research center in the College of Geosciences at Texas A&M University. The program's mission is to improve the understanding, wise use and stewardship of Texas coastal and marine resources.
About the George Bush Presidential Library and Museum: Located on the campus of Texas A&M University, the George Bush Presidential Library and Museum is part of the National Archives and Records Administration. The Bush Library and Museum is located at 1000 George Bush Drive West, College Station, TX, 77845. The museum is fully handicapped accessible. For more information, call 979-691-4000 or go to bush41.org.
Media contact:
Sara Carney, communications manager, Texas Sea Grant, 713-435-9585, scarney@tamu.edu
Tracy Paine, Interim Marketing and Communications Director, George H.W. Bush Presidential Library and Museum, 979-691-4014, paine@nara.gov