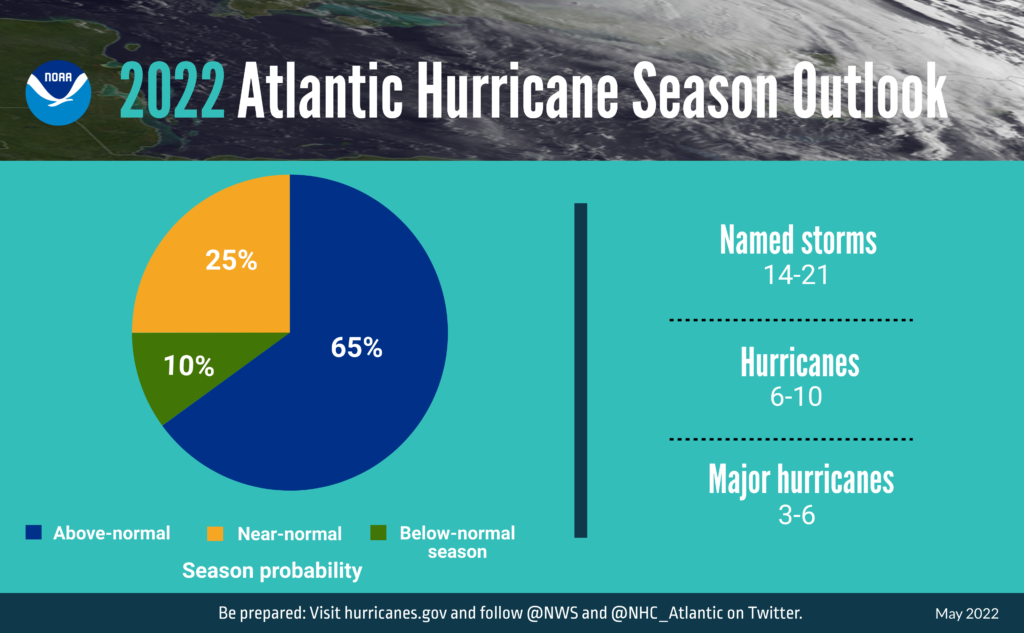 The National Oceanic and Atmospheric Administration (NOAA)'s Climate Prediction Center announced in their May 24, 2022 media briefing that they are expecting another highly active hurricane season this year.
NOAA forecasters predict a 65 percent chance of an above-average season for 2022, which officially starts June 1 and continues through Nov. 30. These predictions include an estimated range of 14 to 21 named storms, six to 10 hurricanes, and three to six major hurricanes (Category 3 or higher) likely.
The anticipated increase in hurricane activity this season is attributed to several climate factors, including weaker tropical Atlantic trade winds and the ongoing La Niña weather pattern, which is expected to continue through the Atlantic hurricane season, and warmer-than-average sea surface temperatures in the Atlantic.
This Atlantic seasonal outlook is for overall seasonal activity and is not a landfall forecast. NOAA's Climate Prediction Center will update the 2022 Atlantic seasonal outlook in early August, just prior to the historical peak of the season.
For more information on hurricane preparedness, view the Homeowner's Handbook to Prepare for Coastal Natural Hazards, which is available in Spanish and English online at HazardsHandbook.com and to download for free. Texas Sea Grant also has a webpage dedicated to hurricane preparedness, including links to informational videos and a comprehensive list of further resources.