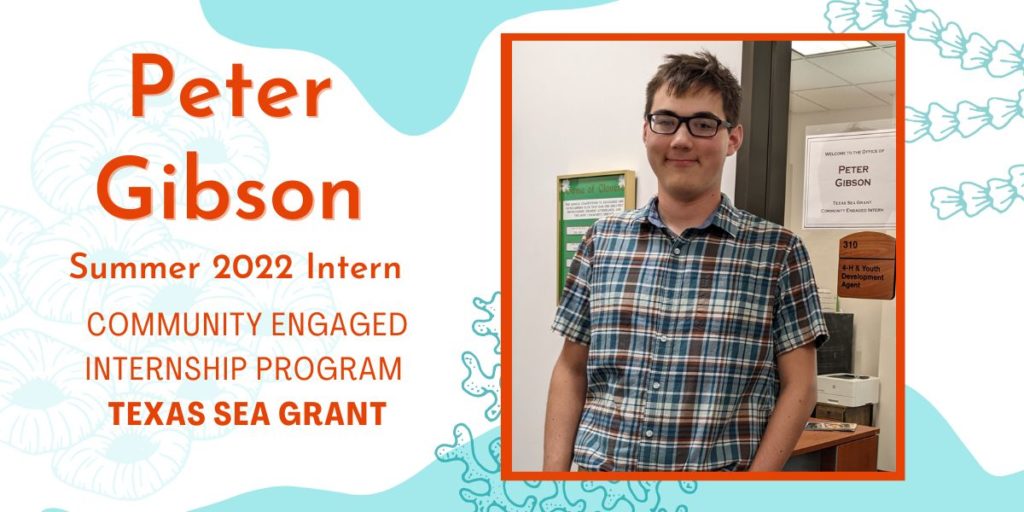 Texas Sea Grant welcomes undergraduate student, Peter Gibson, as a summer intern through the Community Engaged Internship program. 
The Community Engaged Internship is an opportunity for undergraduate students from underrepresented and/or indigenous communities to gain experience and mentorship in an area of interest specific to each student. This internship is part of a national Sea Grant effort to broaden participation in marine and coastal professions to the next generation of scientists and decision-makers.
Gibson, an undergraduate student majoring in marine biology at Texas A&M University-Corpus Christi, is especially excited to help with community outreach and education events on marine biology topics. One of the first projects he will be involved with in this internship will be helping Texas Sea Grant Distinguished Extension Agent Julie Massey with outdoor summer camp activities in Galveston State Park.
Through mentorship from Texas Sea Grant professionals and by participating in community engagement activities, Gibson will gain experience and further knowledge on how to get involved in local coastal community projects. He will also complete a professional development series that focuses on networking and building relationships with local community members.
"I think it's very important that I will be able to supplement the learning I get in a classroom with hands-on experience," said Gibson. "I feel like an internship like this is incredibly valuable for someone like me looking to start a career in science."
The internship also requires completion of a project that extends the knowledge of community stakeholders to address coastal issues of environmental, economic, and social importance. Gibson will plan to present on his project at the end of the internship term in August.