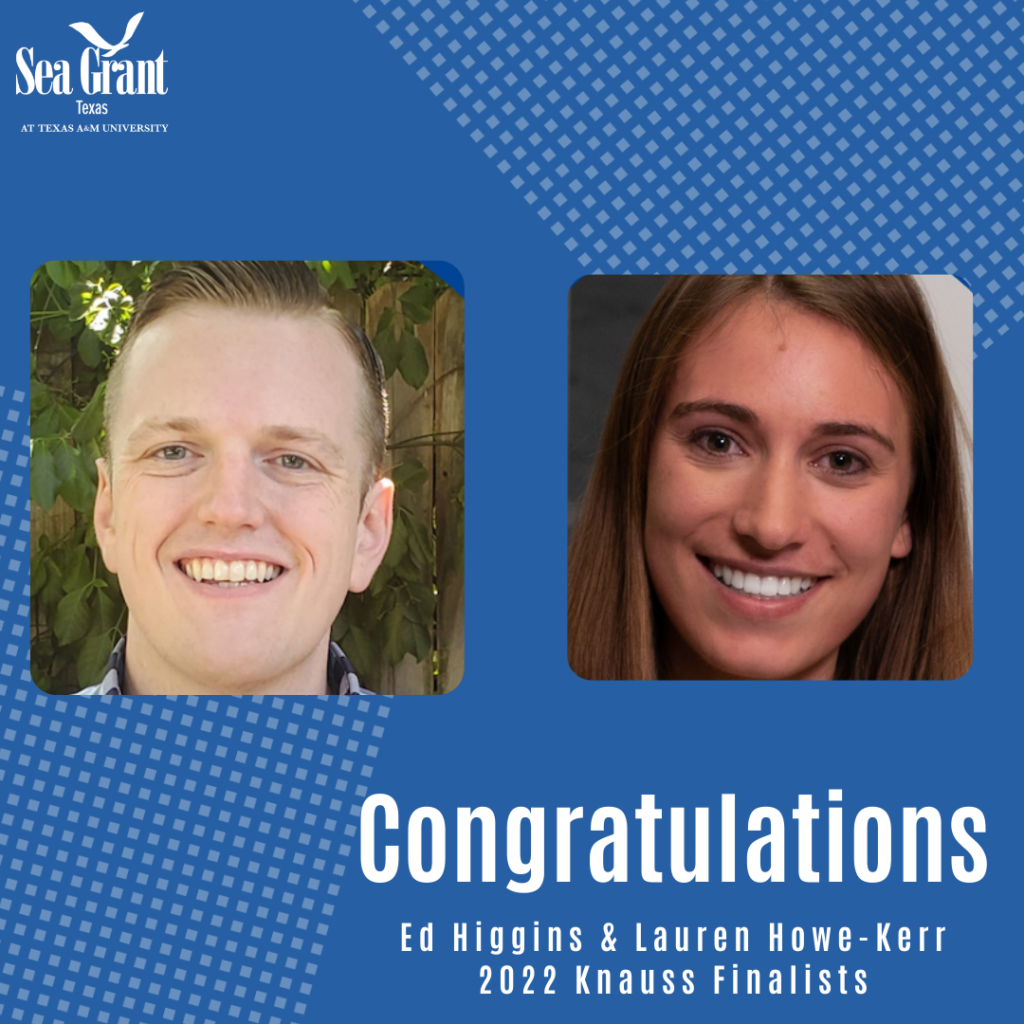 Lauren Howe-Kerr and Ed Higgins, nominees from Texas Sea Grant, have been selected as finalists for the 2022 John A. Knauss Marine Policy Fellowship Program. They are two of 74 finalists across the United States nominated by their respective Sea Grant programs. Since 1979, over 1,500 fellows have completed the program, becoming leaders in science, policy and public administration roles.
As a Ph.D. student at Rice University, Howe-Kerr studies coral reef microbial ecology. By tracking the microbiomes of coral colonies, she examines how viruses, algae and bacteria can be used to support resilience in coral reef ecosystems. She is interested in learning about the intersection of science and policy to tackle multifaceted issues.
"I am excited to apply my scientific experience towards policy and management solutions that tangibly address climate change and ocean conservation," Howe-Kerr said. "I am also looking forward to learning how researchers can be more civically engaged in national policy."
Ed Higgins, a Ph.D. student from the University of Oklahoma, studies the interactions between bivalves and environmental microbiomes, which have an increasingly clearer connection with each other and their ecosystems. He is also interested in the relationship between the language used in scientific policy documents and the legislative outcomes.
Higgins said, "I'm excited for the chance to play a role in federal science policy and learn about the intricacies involved in integrating scientific knowledge with decision making on a national level. It seems like it's going to be a lot of fun!"
"We are honored to have 2 finalists for the John A. Knauss Marine Policy Fellowship. Their academic training and experiences will be valuable assets when they go to Washington, D.C. to work in the legislative or executive branch of government and are immersed in the national policy decision-making that impacts our coastal, ocean and Great Lakes resources," Texas Sea Grant Director Dr. Pamela Plotkin said.
Knauss finalists are chosen through a competitive process that includes several rounds of review at both the state Sea Grant program and national levels. Students that are enrolled in or have recently completed masters, Juris Doctor (J.D.), and Ph.D. programs with a focus and/or interest in marine and coastal science, policy or management apply to one of the 34 Sea Grant programs. If applicants are successful at the state program level, their applications are then reviewed by a national panel of experts.
"At both the state and national levels, Sea Grant's active recruitment and student engagement efforts supported one of the most robust applicant pools in fellowship history," said Dr. Jonathan Pennock, National Sea Grant College Program director. "I have no doubt that the finalists' diverse perspectives will provide great insight towards addressing critical marine policy and science challenges. We look forward to welcoming the 2022 class of Knauss fellows."
This fall, the 2022 finalists will participate in a virtual placement week to get to know each other and interview with potential host offices. Following placement, they will begin their fellowships in February 2022.
Want to learn more about the Knauss fellowship? The Knauss blog shares stories from the 2021 Knauss class on fellowship experiences and their journeys to D.C.
Learn more about this year's Knauss finalists from the National Sea Grant College program's press release.