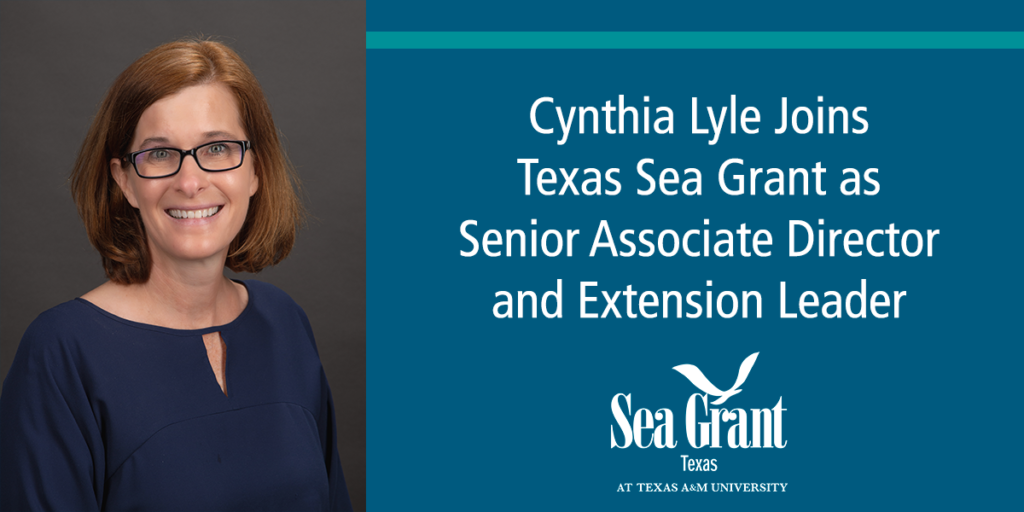 Texas Sea Grant welcomes Cynthia Lyle as its new senior associate director and extension leader. In this role, she will lead strategic planning, federal reporting, and extension efforts. She plans to use a team culture approach to further Texas Sea Grant's mission to improve the understanding, wise use, and stewardship of Texas coastal and marine resources.
"I am honored to be part of the Texas Sea Grant team," Lyle says, "to build upon the organization's successes to integrate research and extension with community partnerships that serve the economic, environmental, and societal needs of today's Texas Gulf Coast citizens and our future generations."
Lyle brings 15 years of research development experience to the position. Since 2010, she has worked with research faculty and university leadership at Texas A&M University – Corpus Christi on various projects throughout the Gulf of Mexico. She has served as the director of foundation and corporate relations, and she was most recently senior research development officer, developing and managing key research initiatives.
Lyle was also CEO of Geospatial Research Innovation & Design (GRID), a small business specializing in engineering and software development. She wrote and served as principal investigator for three NASA-sponsored projects, through which the company developed and commercialized a secure geo-authentication air quality and environmental monitoring system for NASA.
In addition to her research experience, Lyle has experience in communications and public relations through her work at Emory University Hospital Midtown and the International Ocean Discovery Program on the campus of Texas A&M University. At Emory, she also worked as a registered respiratory therapist.
Lyle holds a bachelor's of science in journalism from Texas A&M University and a bachelor's of science in health sciences – respiratory therapy from Georgia State University.
"Cynthia has exceptional leadership qualities and experience, in addition to an exemplary record of service," says Texas Sea Grant Director Dr. Pamela T. Plotkin, "Her outstanding skills and knowledge will help further Texas Sea Grant's mission to advance the common good across the state of Texas and beyond."