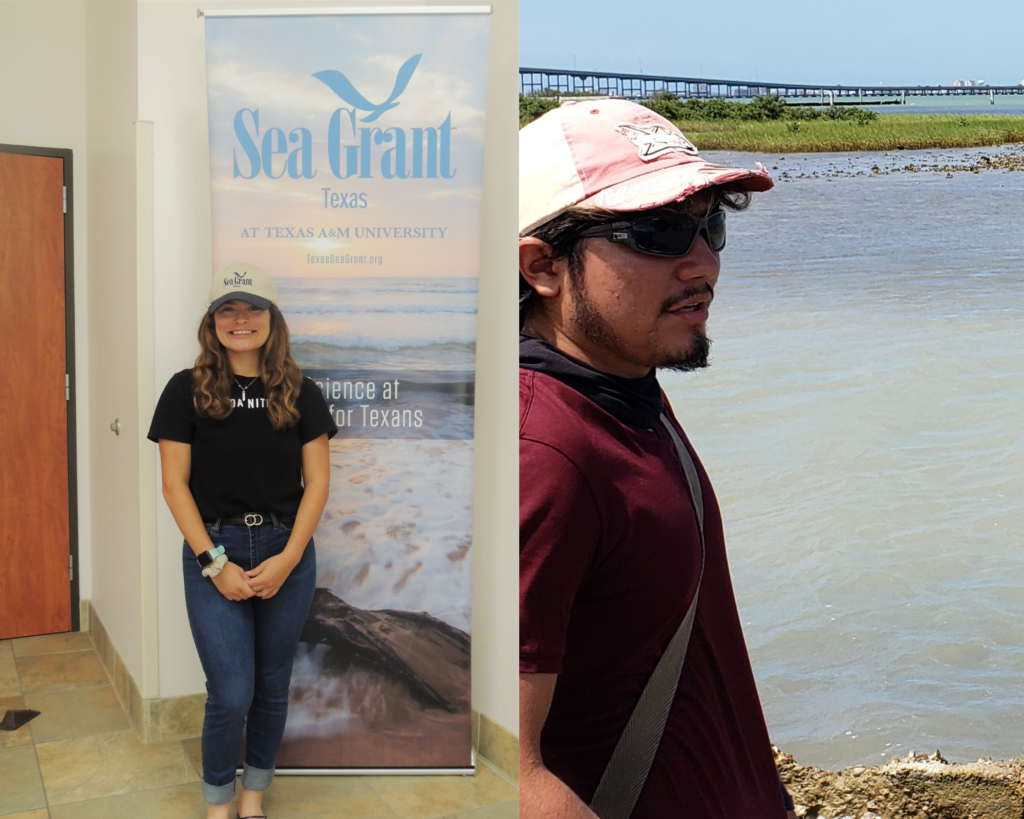 Texas Sea Grant welcomes two undergraduate students, Alexis Guidroz and Shadrach Villafranca, as summer interns through the new Texas Sea Grant Community Engaged Internship Program (TXSG-CEI).
The Community Engaged Internship is an opportunity for undergraduate students from underserved and/or underrepresented or indigenous communities, to gain experience and mentorship in an area of interest specific to each student. This internship is part of a national Sea Grant-wide effort to broaden participation in marine and coastal professions to the next generation of scientists and decision-makers.
Guidroz, an undergraduate student studying environmental biology at the University of Houston-Clear Lake, will work in Galveston under the mentorship of Texas Sea Grant's Distinguished Extension Agent Julie Massey to learn more about environmental research in the area.
"My plans right now are to just get involved in the community and learn new skills, especially gain field experience," Guidroz said. "I'm excited for all the diversity [in opportunities] because I don't know exactly what I want to work with."
Villafranca, an undergraduate student majoring in marine biology at the University of Texas Rio Grande Valley (UTRGV), will work with Texas Sea Grant Extension Agent Tony Reisinger, along with Texas Sea Grant Extension Planning Specialist Kate de Gennaro, to gain valuable field experience in restoration and conservation efforts throughout the Rio Grande Valley, especially with fisheries and aquaculture.
"Since I'm going into the field of marine biology, [this internship] lets me work with professionals to get to know them and build connections," Villafranca said. "I'm excited to get out there and start communicating and interacting with all these different people."
Both Guidroz and Villafranca will gain experience and mentorship from Texas Sea Grant professionals in their chosen fields over the summer and participate in community engagement activities. They will also complete a professional development series that focuses on networking and building relationships with local community members.
The internship also requires completion of a project that extends the knowledge of community stakeholders to address coastal issues of environmental, economic, and social importance. Both interns will plan to present on their respective projects at the end of their internship term in August.
-30-
Media Contact:
Sara Carney, Communications Manager, Texas Sea Grant, scarney@tamu.edu, 979-458-8442