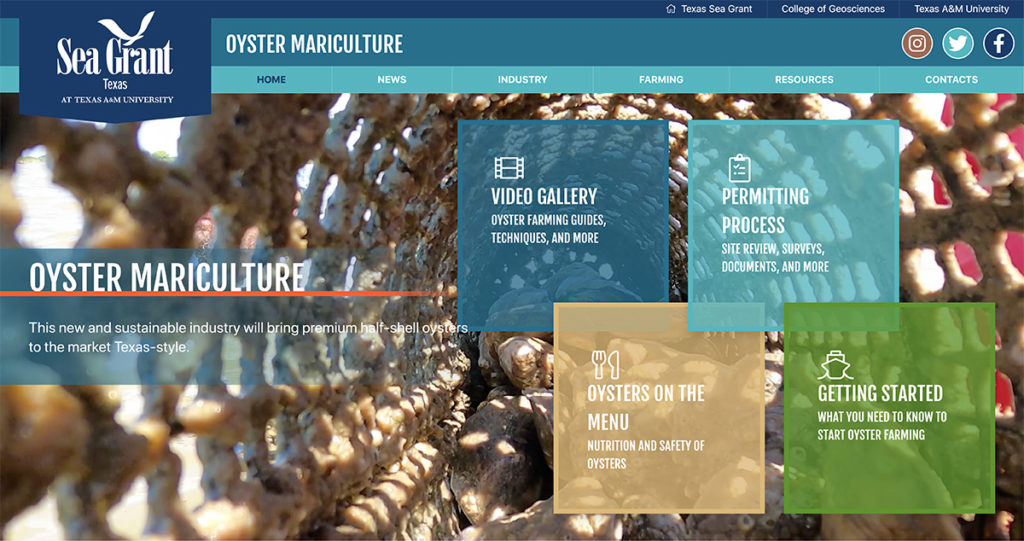 The new Texas oyster mariculture, or farming, industry has a new online resource at its disposal. Oyster farmers and oyster enthusiasts alike can learn more about this emerging industry at a new website just launched by Texas Sea Grant: oyster.texasseagrant.org.
The website houses a breadth of oyster information, including a step-by-step guide to the permitting process in Texas, which will help farmers successfully launch their businesses. The site also contains up-to-date information about gear types and techniques, biosecurity, risk management, and more. Additionally, viewers can find accurate information on the nutritional and environmental benefits of oysters, oyster recipes, and the truth behind commonly believed oyster myths.
"We are so excited to launch this new website," said Mario Marquez, Texas Sea Grant aquaculture specialist. "It will give farmers the information they need to start growing and selling their oysters, and it will give consumers the chance to learn more about oysters and oyster farming."
The website is a continuation of Texas Sea Grant's commitment to supporting this new industry. In addition to producing the website, Texas Sea Grant has also facilitated multiple hands-on workshops on oyster mariculture and Marquez has advised many new farmers.
"Developing the workforce for the future is one of Texas Sea Grant's priorities," said Dr. Pamela T. Plotkin, Texas Sea Grant director. "This new resource, developed for Texas' expanding oyster mariculture industry, will be instrumental to launching careers and businesses that will grow and market the best oysters in the country."
Media Contact: Sara Carney '13, communications manager, Texas Sea Grant, scarney@tamu.com, 713-435-9585.