Did unusual ocean conditions contribute to Hurricane Harvey's intense rainfall and flood, and if so, how? Dr. Steven DiMarco, professor in the Department of Oceanography at Texas A&M University, and Dr. Henry Potter, associate professor in the same department, and Dr. Arnoldo Valle-Levinson, professor in the Department of Civil and Coastal Engineering at University of Florida, answered these questions and presented new studies at the American Geophysical Union (AGU) press conference during the Ocean Sciences Meeting (OSM) in Portland, Oregon, on Feb. 18.
The studies focused on the impact of Harvey on the Gulf of Mexico. Many Aggie oceanography researchers and students participated in research cruises aboard various research vessels which included the R/V Point Sur, R/V Trident, R/V Lithos, and the R/V Manta, before and after Harvey.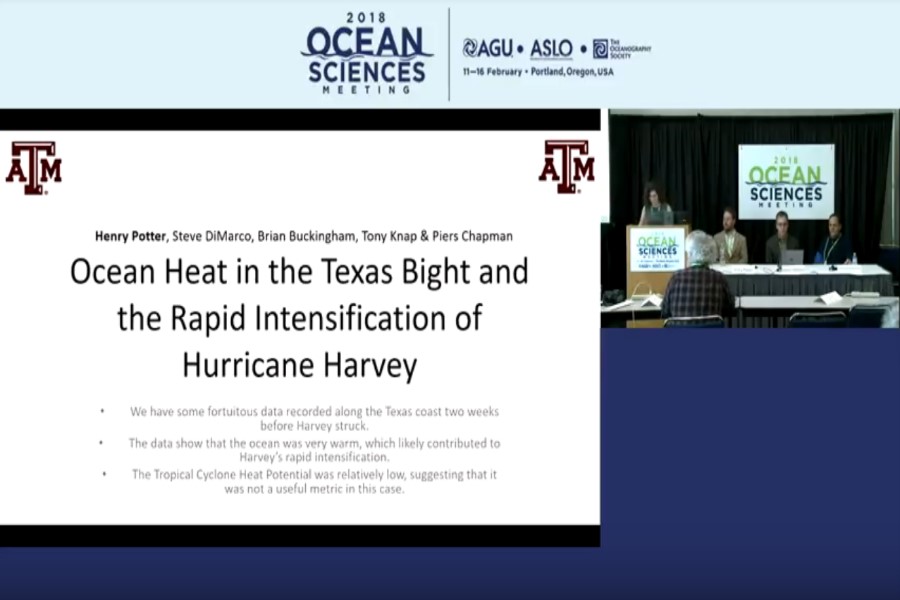 Potter discussed how heat content of the ocean affected the rapid intensification of Harvey, based on tropical cyclone heat potential (TCHP). THCP is defined as the integrated heat of the ocean water column above the 26 °C isotherm (constant temperature), which is a useful metric to estimate the energy available to fuel a hurricane. Despite the observation of significant heat increase in the Texas coastal surface water, TCHP was much lower than normally associated with the rapid intensification of hurricane.
"This may suggest that TCHP may not be an ideal metric for shallow coastal environment or other factors might have contributed." Potter said.
DiMarco presented in-situ observations based on Texas Automated Buoy System (TABS) data collected from 10 buoys in the Gulf of Mexico, including 8 buoys along the Texas coast and 2 buoys in Flower Garden Banks National Marine Sanctuary, 100 miles offshore of Galveston, Texas. These buoys provided real-time observations throughout the passage of the storm, including temperature salinity, and current velocity. These measurements were used to monitor the distribution of terrestrial freshwater flux along the coast after Harvey made landfall.
"Strong surface currents were continuously observed during the Harvey," DiMarco said. "Maximum was up to 160 cm/s which was the strongest current ever that was measured in this region during the past two decades."
"Based on our measurements, an unusual massive freshwater plume had been detected along the Texas coast but the storm's floodwater and contaminants that posed a threat to the coastal marine ecosystems luckily did not reached the protected reefs of the Flower Garden Banks National Marine Sanctuary," he said.
Lastly, the University of Florida's Valle-Levinson found that three conditions prevented Harvey's floodwater from flowing into the ocean. First and second were Buffalo Bayou and the San Jacinto River, which were so overwhelmed that a bottleneck of freshwater clogged and slowed flows to the ocean. Thirdly, high sea-level rise made the flooding worse in the Houston area, because "the ocean was preconditioning the flooding in Houston and Galveston Bay," Valle-Levinson said.
For more details, view the full video record of the press conference talk on AGU's YouTube Channel.