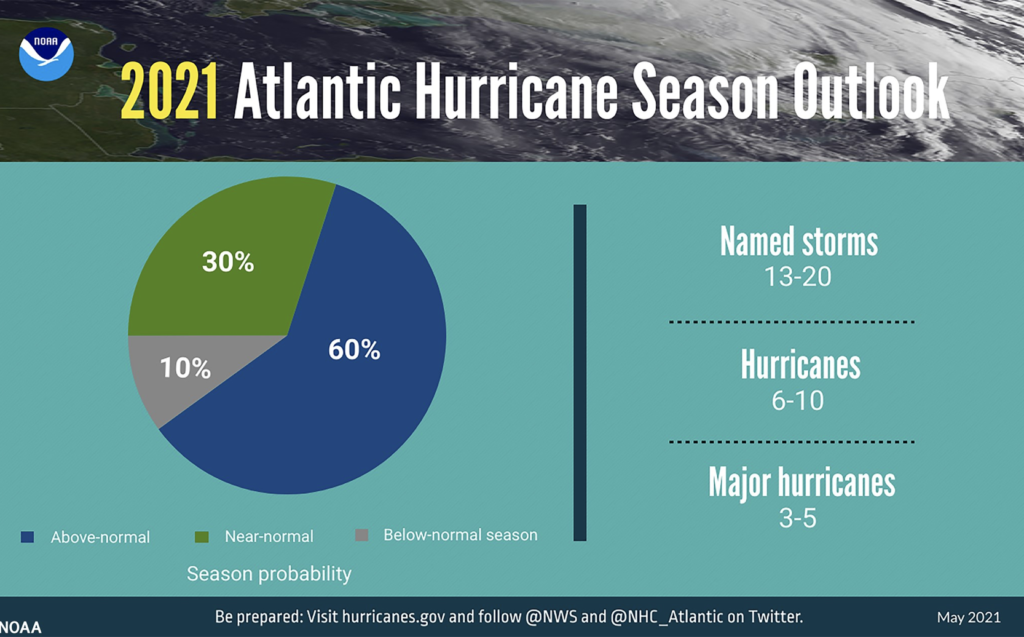 May 20, 2021 — The National Oceanic and Atmospheric Administration (NOAA)'s Climate Prediction Center announced in their May 20, 2021 briefing that they are expecting another highly active hurricane season this year.
NOAA forecasters predict a 60 percent chance of an "above-average" season for 2021, which officially starts June 1 and continues through Nov. 30. These predictions include an estimated range of 13-20 named storms, 6-10 hurricanes, and 3-5 major hurricanes (Category 3 or higher) likely.
Earlier this year, NOAA updated the statistics for determining average levels of hurricane activity. The updated average hurricane season now produces 14 named storms and 7 hurricanes, including 3 major hurricanes.
While it is predicted to be an above-average hurricane season, the 2021 season is not expected to be as active as 2020, which was the most active hurricane season on record. However, a less active hurricane season does not equal a lower potential for devastating storm damages.
"Although NOAA scientists do not expect this season to be as busy as last year, it only takes one storm to devastate a community," said Ben Friedman, acting NOAA administrator, in the briefing.
With hurricane season around the corner, NOAA and the National Weather Service and Texas Sea Grant are urging coastal communities to start preparing now.
Kate de Gennaro, planning specialist with the Community Resilience Collaborative (CRC), emphasized the importance of early preparedness for hurricanes, especially when it comes to having a good list of supplies and forming an evacuation plan.

"Make sure that you know what you're going to do well in advance and talk over your plan with everyone in your household, including friends or family that live more inland," said de Gennaro. "Always err on the side of caution, you don't want to be stuck in one of these storms."
Media Contact:
Sara Carney, Communications Manager, Texas Sea Grant, scarney@tamu.edu, 979-458-8442